Products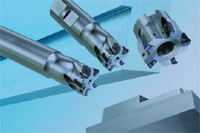 LMT-Fette is pleased to announce UNIVEX PREMIUM. This new generation of 90º end mills and face mills is designed with ultra-high positive geometry and unequal pitched flutes for smooth performance, and a true 90º design for efficient and accurate corner milling. LMT-Fette's new UNIVEX PREMIUM series of square shoulder mills achieve high feed rates, resulting in reduced cycle times. Unique ultra-durable nickel-plated bodies ensure long-term performance. The UNIVEX PREMIUM end mills and face mills are designed with thru-the-tool coolant supply improving chip evacuation and tool life. The UNIVEX PREMIUM end mills are available in Weldon shanks or straight shanks for precision mounting in end mill adapters.

The UNIVEX PREMIUM end mills and face mills feature precision indexable 17mm carbide inserts available with a variety of corner radii. A range of carbide substrates and coatings are available to meet your specific application needs, resulting in optimum cutting speeds and tool life, and excellent surface finishes.
Application Area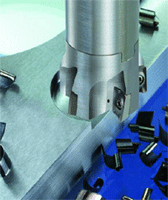 The UNIVEX PREMIUM end mill and face mill cutters are designed to cover a wide range of roughing and semi-finish milling applications. The UNIVEX PREMIUM cutters offer precise location of inserts to minimize witness lines when face milling. The milling cutters are available in course and fine pitch for maximum feed rates in specific material groups. The inserts and body pocket design offer unmatched performance and smooth cutting action when milling in all steels, stainless, and non-ferrous materials. The new UNIVEX PREMIUM features a longer insert edge length for greater depths of cut, up to 0.6709. All UNIVEX PREMIUM milling cutters are nickel-plated for long-term performance even when used in unfavorable conditions.
Materials
The UNIVEX PREMIUM end mills and face mills are primarily designed for steel material groups. A broad selection of inserts, grades and chip breaking geometries make it an easy choice for machining materials from low carbon steel to mild steel and tool steels.
Advantages
The new generation of UNIVEX PREMIUM end mills and face mills adds 17mm edge length inserts to our already successful UNIVEX 90º end mill and face mill program of 9mm and 11mm. LMT-Fette offers the Total Tooling Solution with its complete line of 90º indexable end mills ranging from 1/29 to 1.59 diameters and face mills ranging from 29 to 49 diameters.