Products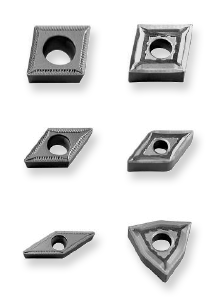 LMT-Fette is pleased to announce the introduction of Bohlerit's new high-speed turning grade LC215H. This new grade features a highly wear resistant P10-P15 substrate that is gradient sintered to provide exceptional edge toughness. LC215H is a multi-layer MT-CVD coated grade featuring TiN, TiCN, and Al2O3 for excellent heat and wear resistance.
Application Area
With its excellent balance of wear resistance and toughness, LC215H grade is excellent for turning of carbon and alloy steels up to 40 Rc. Additionally LC215H is also LMT's number one choice for the turning of tool steel and high-speed steel. Due to its excellent heat resistance, LC215H performs exceptionally at cutting speeds as high as 1500 SFM. LC215H should be used in applications where LC215B has been proven to lack wear resistance or heat resistance.
Materials
As stated above, LC215H's primary application is in the high-speed machining of carbon and alloy steels, as well as the turning of various tool steels. However, LC215H performs exceptionally in any tough steel applications where the work piece material features alloying elements such as tungsten, vanadium, chromium, or molybdenum. LC215H offers exceptional heat resistance as a result of the multi-layer MT-CVD coating featuring Al2O3.
Advantages
The primary advantages of LMT-Fette's new LC215H are in its unique ability to handle highheat turning conditions, in difficult turning operations such as heat-treated work pieces, high alloy steels and tool steels, or at cutting speeds in excess of 1000 SFM, LC215H excels.
Additionally, the insert toughness, as a result of the gradient sintered substrate, offers exceptional versatility. These two features combined make LC215H the new standard for turning of difficult steels, and ultra-high-speed turning of carbon and alloy steel.