Products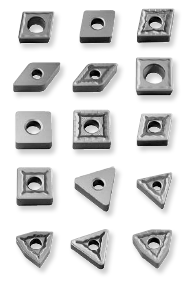 LMT-Fette is pleased to introduce our new CASTEC® LC620H turning grade for ductile irons, malleable irons, and grey iron materials. Cast iron materials vary greatly in the composition of the alloy. They also vary in the cool down times, have different fluctuating physical properties, and are produced by various casting methods. These materials are best machined by means of indexable inserts made from carbide. LC620H provides K20 substrate carbide that is gradient-sintered to provide excellent edge toughness. LC620H is a multi-layer MT-coated grade featuring TiN, TiCN, and Al2O3 for excellent heat- and wear-resistance.
Application Area
CASTEC® LC620H turning grade is designed with a special, ceramic layered coating and is highly resistant to crater wear in abrasive cast iron materials. The main problem with cast iron is the heat that is generated during machining, not chip breaking. This grade reduces the friction during machining so that less heat is generated, making dry machining possible from an economic point of view.
Materials
In the development of the CASTEC® LC620H, the focus was on a tough, carbide substrate covered with a fine, extremely wear-resistant MT-CVD layer coating. CASTEC® LC620H turning grade is a universal turning grade for all cast iron materials such as ductile, malleable, and grey iron.
Advantages
The primary advantage of the new LC620H is its ability to handle a wide range of cast iron materials. In difficult turning operations such as high abrasive materials, LC620H provides the ultimate crater wear-resistance and tool life. The new CASTEC® LC620H adds more flexibility with a wide range of ISO/ANSI indexable inserts. They allow more productivity by increased performance, tool life and reduced overall production