Products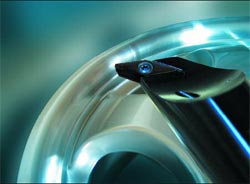 LMT-Fette is pleased to announce the introduction of a new diamond film coating, ALUTEC LC600A. This new grade features a tungsten carbide substrate engineered for toughness and wear resistance, and a PCD diamond film hard coating up to 10,000 Hardness Vickers. The new product will revolutionize rough and finish turning applications.
Application Area
With an excellent balance of carbide substrate toughness, and highly wear resistant diamond coating, LC600A is excellent for turning of cast aluminum alloys. LC600A combined with our BAL (Boehlerit Aluminum) geometry provides optimum chip control and tool life in aluminum alloys with either low or high silicon content. The new PCD diamond-coating technology of LC600A makes it possible to run at slower sfm ranges from 650 to extremely high ranges over 9,800, providing the wide range of sfm needed when machining automotive products such as cast aluminum wheels.
Materials
As stated above, LC600A's primary application use is in machining of cast aluminum automotive products. Its performance is unmatched by the PCD coating technology. The nano crystalline and microcrystalline layering process in LC600A inserts provides an excellent hard coat surface needed for tool life and improved finishes. Boehlerit offers the BAL chip breaker geometry in ISO style inserts more cutting edges than conventional brazed tipped cutting edge inserts.
Advantages
Combining the toughness of tungsten carbide and the wear resistance of PCD, LMT-Fette's LC600A insert grade is a new generation of diamond film coating produced to compete with conventional brazed PCD tipped inserts for machining of aluminum alloys. This new product offers five to ten times the tool life achieved by conventional tungsten carbide inserts. LMT-Fette offers its exclusive BAL geometry designed specifically for short and long chipping aluminum, materials providing optimum chip control compared to brazed PCD flat top style non-chip breaker inserts.