Products
LMT-Fette is pleased to announce the expansion of our high-performance aluminum machining tools with three new product lines to solve tough machining problems.
The AL-HPM-Line is a high-performance end mill line with corner radii to efficiently machine thin-walled parts from solids. These tools can take heavy chip loads while delivering ultra-smooth finishes.

The AL-BALL-Line is a 3-flute ball nose tool line designed for efficient high feed profile machining in aluminum die/mold making applications.

The AL-O-Line is a single-flute end mill line that cuts both hard and soft aluminum, with or without coolant, allowing very high chip-loads and deep cuts common in nesting and stacking of sheet parts.
Application Area
The AL-HPM-Line is designed for the extremes of high speeds and feeds with low chatter, resulting in highly smooth surface finishes. A common application is block aluminum machining through either high speed machining (HSM) methods or high feed machining where the chip loads and depths of cut are higher. Corner radii provide smooth bottom finishes. The special double-flute face helps to eject the chips at high feed rates eliminating chips from being re-cut or re-welded on to the finished parts.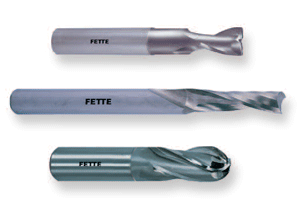 The AL-BALL-Line is designed for high production profiling. The uniquely designed point has more flutes for roughing in deeper cuts. Near the point, the tool is effectively a single-flute, generating less heat, reducing burning or melting when finishing. This makes the AL-BALL a roughing and finishing tool in one, and can save significant time in die/mold prototyping.
The AL-O-Line is designed for production roughing and finishing of non-ferrous alloys such as aluminum, magnesium, brass, etc. The unique "O"-shaped flute geometry allows chips to flow through the center of the tool, ejecting out the other side. The flutes are polished, minimizing friction and build-up. The dead-sharp edge is created with high rake and clearance combined with a low helix, resulting in lower cutting forces. The lower cutting forces allows for faster feeds and less deflection during the cut. This is a perfect tool when the diameterto- length ratio is over 1:2, in applications such as sheet, stacked sheets, slab cutting, slotting, and nested.
Materials
The new LMT high-performance aluminum lines are designed specifically for machining aluminum alloys used in aircraft industries such as 2024-O, 2024-T3, 6061-O, 6061-T6, 7075-O, 7075-T6.
Softer aluminums are one of the most challenging materials to cut. The AL-O-Line will out perform all multifluted tools cutting architectural aluminum alloys. While the tools will cut soft aluminum without coolant, use of coolant in softer materials will greatly extend tool life in architectural materials such as 3003-H and 5052-H series.
The new LMT high-performance aluminum end mills also excel in other non-ferrous materials such as brass, magnesium, and copper alloys.
Advantages
The primary advantage of the new LMT high-performance aluminum tools is their ability to take higher chip loads and deeper cuts with smaller diameters. The tools are very quiet in the cut, having a large sweet-spot range. This means you get more work done with smaller diameter tools in less time. For example, the singleedge AL-O-Line tools allow faster feeds while taking deeper cuts, resulting in less machine passes and faster overall slotting operations.
A key feature of all of the new LMT high-performance aluminum tools is the ability to get the heat out in the chip, allowing the tools to run at a cooler temperature. Using a tool with the least number of flutes necessary to get the job done is normally the best solution. For example, a single-flute tool cutting 180° per revolution generates less heat. By design, a single-flute tool allows larger chips to evacuate through the wide open flute area. Most multi-fluted tools can take large chips but there is no place for the chips to go with small flute openings.